"The Sri Lankan government should not look at this as a Sinhala or Tamil issue. It should see it as a human tragedy and help. We should now ensure that the people rescued from the Tsunami devastation are protected from diseases rather than let the enormity of the tragedy make us inactive. The government of Sri Lanka should consider our people also as human beings," said Col. Soosai, Commander of the Sea Tigers who is directing rescue and relief operations on the southern coast of Jaffna and in Mullaithivu, said in an interview to a London Tamil Television, Deepam TV, Wednesday.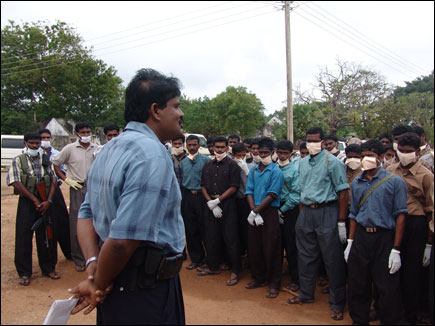 Special Commander of the Sea Tigers, Col. Soosai is briefing LTTE rescue units
"No one should think in terms of Sinhala or Tamil in dealing with this disaster. It is a Sinhala driver who is working with us to recover and cremate bodies in Uduthurai," he said.
"We asked for heavy vehicles from the Sri Lankan government for the rescue work here. But did not get any from Colombo until today. We are now using all our heavy vehicles round the clock to retrieve bodies buried under buildings and trees flattened by the Tsunami on the coasts of Vadamaradchi east and Mullaithivu. This is not adequate to deal with the crisis of this proportion. If Colombo really wanted to help our people in this crisis, it would have done so much until 28th December," Col. Soosai said.
He said that the Tigers deployed a battalion of their troops for rescue and relief operation in Jaffna south and in Mullaithivu. "We are going to deploy another battalion today (Wednesday)," Col. Soosai said.
"We are using all our heavy vehicles to retrieve bodies trapped under buildings destroyed by the Tsunami. Even if we deploy all our resources for the rescue work it won't be enough," Col. Soosai said.
"Many people who survived the earthquake in Gujarat were killed later by epidemics. We should not let it happen here. We should take precautions now," he pointed out.
"The Sri Lanka army (SLA) says that it is in Jaffna to protect the civilians there. If that is the case why is the SLA using its helicopters to search and rescue only its soldiers who are missing in the peninsula? We see what the Indian Navy are doing to help the Tsunami devastated people on the south Indian coast. The Indian Navy despite suffering losses in the disaster is actively involved in the evacuation and medical care of people in Tamil Nadu", the commander of the Sea Tigers pointed out.
Col. Soosai said the expatriate Tamils have been playing a key role in providing financial support for the rescue and relief operations in the North East.
Asked if Sea Tigers were affected by Sunday's disaster, Soosai responded: "In Mullaitivu three of our fighters perished. Major Dharmendra, a fighter who was assigned to provided support to him and a civilian fighter we call "Petrol Iyah," died in the calamity. In Vattuvagal and Chaalai we didn't suffer any losses to personnel. In Vadamaradchy east we lost three fighters manning the forward defence lines. An LTTE woman cadre who had come to Vadamaradchy East on least died in the flooding.
"Loss of lives of our cadres was limited to those I have mentioned. We suffered some additional property damage. In Trincomalee and in Batticaloa two observation posts were washed away. The losses are not that significant," Soosai said.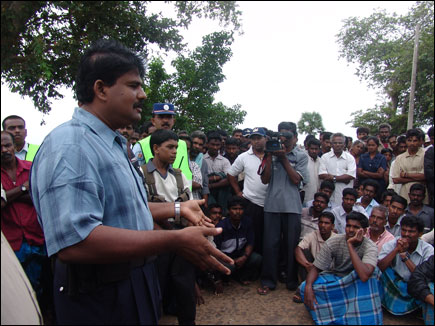 Relief efforts in the aftermath of the Tsunami disaster
| | |
| --- | --- |
| LTTE cadres getting ready for rescue engagement in Mullaitivu | Col. Soosai briefing Sea Tiger units |
| Relief efforts in the aftermath of the Tsunami disaster | |
—–
[TamilNet, Sunday, 26 December 2004, 08:56 GMT]
Official death toll from the Tsunami waves that hit northeastern and southern coast of Sri Lanka Sunday morning was increased to 5000, Sri Lankan Defence Ministry sources told TamilNet. Government officials in the devastated eastern town Batticaloa said only about twenty five of more than thousand families in Navalady, a coastal suburb of Batticaloa, appear to have survived the massive waves.
At least 208 persons have died in Trincomale according to the district's Government Agent, Mr. M.D.A. Rodrigo. Hundreds of people are missing in many coastal villages of the east coast and there are few facilities to search for them or care for the wounded, local officials and relief workers said.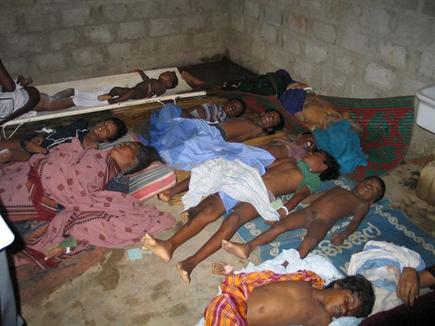 More than 1300 people have died in the East. Scores of bodies are floating in the near the shore and in the Batticaloa lagoon, residents said.
Nilaveli, Sambaltheevu, Linganagar, Kuchchaveli, Pulmoddai, Kinniya and Mutur are among the villages that were severely hit in Trincomalee district, according to the GA of the eastern district.
Mullaitivu district is also badly affected. Officials say that many parts of the district are still inaccessible and it was difficult to provide damage estimates or death tolls there.
Around 200 bodies are brought to Kilinochchi Hospital from both Vadamaradchi East and Mullaitivu. Around 1600 severely injured persons from Mullaitivu and Vadamaradchy East have also been admitted to the Kilinochchi hospital, according to sources.
Meanwhile civil sources in Jaffna District said that they feared around 100 have died in Jaffna district. Civil sources in Mullaitivu District also report heavy losses along the coast.
Kaddaikadu, Uduthurai, Aaliyawalai, Chempianpattu, Maruthankerni, Vettilaikerni villages in Vadamaradchy East are severely affected by flash flooding. More than 1000 people are reported missing in these villages.
Sea Tigers wing of Liberation Tigers, Officers of Tamileelam police and volunteers from Tamil Rehabilitation Organization (TRO) are attending to the immediate urgent needs of the affected public.
Sri Lanka declared a state of National Disaster, according to the Presidential Secretariat. Meanwhile, reports from the southern parts of Sri Lanka said that more than 250 are dead. Two hundred bodies have been brought to the Galle Hospital, according to reports. Seventy bodies of persons killed by the waves were brought to the government hospital in Tangalle on Sri Lanka's southern coast, Police said.
Damages caused by Tsunami in the northern town of Pt.Pedro.
Damages caused by Tsunami in the northern town of Pt.Pedro.
Thamil Eelam police seen helping Tsumani victims
---